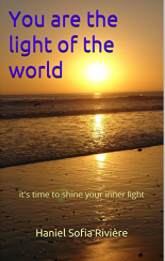 You are the Light of the world
It is your time to shine your inner light !
The aim of this book is to help you make sense of your life experiences and to look at them in a context of spiritual growth. I would like to share with you a spiritual practice which has been helping me grow and given me the strength to overcome many of my life traumatic events.
In this practise, twelve sentences from the Bible are used as focus points for daily meditation. You will be guided step-by-step on how to grow your inner light and how to free yourself from your shadows including your main fears. For each step, I suggest guidance to help you reflect on your life, empowering you in making life-enhancing choices. This is offering you a path to become more conscious light workers and to access your inner joy and peace, and ultimately, to let your inner light overflow your heart and contribute to healing the world.
You may be going through challenging life changes, struggling with loss or suffering.
This powerful exercise will help you create a personal relationship with your inner light, the living Christ. You don't need to come from a religious background to seek a relationship with the Christ within. I would argue, in fact, that it may be easier to be less burdened by dogmatic images to form a relationship with the divinity within you.
The Kingdom of God is not to be found outside, but within us, it is our sacred space within.
The urge to write this book came to me when I arrived on the island of Patmos in Greece.
I had planned to stay there only a week to attend the festival of sacred music. I soon felt nourished by the light and the energy of the island and followed my soul yearning to settle there. I moved from the UK where I had lived for 20 years and worked as a university lecturer and a psycho-therapist. I was going through a deeply sad period of my life after the end of my marriage. I had practised meditation and a series of spiritual exercises from a very young age. Through the traumatic event of my divorce I focussed even more on my spiritual growth as I needed to regain my inner strength and my inner safety to rebuild my life. You are also facing your own difficulties and challenges and we all know that the world around us appears to be transforming at great speed, destabilising us further. It is crucial to be centring ourself on our deeper needs, and use tools such as this spiritual exercise, to nourish our inner light, and to keep the light of this world grow. It is the message which was given to us by Jesus, 2000 years ago, and it is still valid today.
This book is available as a kindle e-book from amazon
To access it on your device (PC, laptop, iPhone etc..) you need to download the Kindle application for free from the internet – no need to purchase new device.