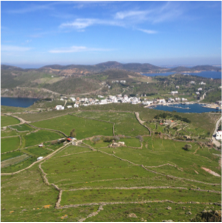 For small groups or individuals, I organise taylor-made programmes of seminars and retreats on the following themes:
Patmos and its hidden wisdom
Let me lead you on a treasure hunt through mythology, the Goddess Artemis, the impact of St John's presence, the inspirations left by mystics and hermits, the Archangel Michael's line, nature's overwhelming beauty and the powerful energy points – we will meditate, share, walk, exchange, learn, swim, explore the island and connect with our own inner wisdom to help us access a higher level of consciousness. This is a path to connect with the Eternal Feminine and to honour it in our being.
It's time to shine your inner light !
This is an opportunity to go deeper in your spiritual practise using the steps described in my book 'You are the light of the world' and the 12 meditations linked to it. We will focus on meditations and visualisations to produce a re-alignment of your life towards a more meaningful purpose.
Connecting with your angelic guides
Next seminar – enrolling now :  22 – 29 May 2018 – Ask for the detailed programme (only 10 places available)
You will be guided to connect with your angelic guides using powerful channeled meditation and visualisation. You will spend time in nature and in silence to reconnect with the small voice within, your own angelic guidance. There will be opportunity for individual guidance and for sharing within a small group of participants.
The seminars are organised on the island of Patmos in Greece –
Patmos is a small and magical island of the Aegean sea where St John, the beloved disciple of Jesus, is believed to have been exiled between 95 and 98 AD and where he received the text of the Revelations (also known as the Apocalypse).
Testimonials
After spending some days with Haniel Sofia when she acted as guide for myself and a small group, I can most certainly say that she is a truly wonderful guide. Firstly, her love for Patmos is immediately evident, contagious even. But even more than that, she possesses an incredible knowledge of the island, its history and its contemporary culture, as revealed with her deep understanding and knowledge of the religious and spiritual content, that makes Patmos such a remarkable place to visit. If you want to go deeply into what Patmos is all about, then Haniel Sofia is the one for you. So impressed were the members of my retreat group by Haniel Sofia's contribution to the deepening of the retreat experience that they asked for an extra day with her to be able to enjoy one of her angel workshops. For spiritual seekers wanting a deeper understanding of the angelic archetypes that operate and overlight their lives, Haniel Sofia offers deeply satisfying and insightful map to this aspect of ones inner life. I highly recommend it."
Ian Graham, author and retreat leader, UK
PATMOS : A GATE TO THE LIGHT 
This short documentary will introduce you to the spiritual energy of the island.